Recommendations
This Month

California Budget 2008-2010
In California, there is a dangerous move about to unfold that relates to the entire internet, which if passed will set the ground work for other states to tax any purchase you make over the internet.

The representative that wants to see this bill passed is a freshman representative named Nancy Skinner.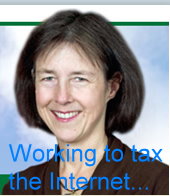 This would mean that every program that is used as a "checkout" or "e-commerce" software would need to be modified to account for one single state. Then the owner of the store would need to submit tax dollars to the State of California.

Not only is this a programming nightmare but would require many human hours for all the vendors of software to comply with one states directives.

If you add this item to your cart, you will find the "Final Summary of the 17 Month Budget Package...




This is a public document. We charge a nominal fee for the storage of this information on our servers.