Community Work is Good Business - by Wayne Strnad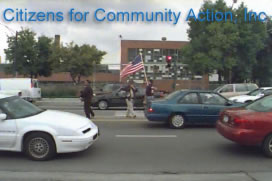 The photograph above shows Wayne Strnad raising money with the Chicago Fire Department a few days after the 9-1-1 tragedy. That day more than $7,000.00 was donated by the community to help the victims.
Wayne Strnad, like every other American, was astonished by the fall of the Twin Towers in New York City. This was a time for America to unite. As more and more information became available, however, the path of unity became uncertain. Was the Twin Tower really a terrorist act or was something else in play that the American People were simply not privy too? Engineers who design skyscrapers say that it was impossible for the Twin Towers to collapse because of a plane hitting it. The fuel that airplanes use could not reach a temperature hot enough to melt steel. Then there were Fire Department and Police Department personnel reporting that they heard additional bombs go off and were told to get out of the building themselves.
Usually it is the case, as with any major calamity, that rumors run rampant. The videos below show one side of the story, perhaps the truth, that are presented so that everyone can make their own judgement call.
Getting Involved with Your Community
It is a rather unfortunate thing that these days people simply do not know very much about the community in which they life. It is very common for people not to know anything about their neighbors other than that's the person that drives a certain car that they see periodically parked in front of their house. Not only that, people who live in urban areas do not know about the crime that's going on in their area, other than the "tags" that are placed on garage doors or the side of buildings - by alleged gang-bangers. Tagging can occur anywhere but sometimes certain business areas are chosen because of the traffic.
For most people it's a rather simple thing to stay cloistered in their abode and block out the outside world. However, there are many advantages to getting to know your neighbors, least of which is watching out for each other.
Wayne Strnad knows a multitude of communities because he has fortunately run for public office and has circulated his petition pretty much by himself. He has knocked on thousand of doors and talked with people about the problems they face in their own community and has tried to help in any way he can to solve their problems. Of course, not every problem can be solved by him or even those in political office right now. Problems such as Medicare, employment, alternative health care, etc. These problems are global problems that should be addressed by the Federal government and those who seek the position in the House of Representative or the Senate aka Congress.
Doing What's Right
In this portion of Wayne Strnad's web, you can see the results of what he has accomplished or is trying to accomplish right now. The panel to the right of this text shows the different informational areas or categories that you can explore. Clicking on the category brings up all the information related to that category. The category that you see when you load this page is Fernando Mendez. The links inside show the pieces of information that you can explore. Clicking on any one of them opens a new page.
Note on Browser
Some browsers react differently than others. For example, if you use Microsoft's Internet Explorer and click on a link, it might open a new window. By default, all our links open a new window so that you can read the new information presented and then close the window or explore even further.
If you use Firefox, then our new window will open to a new tab. Please be aware of this because you might think that the link is not working. Just look over to the next tab and see the results.
Finally, if you use any pop-up blocker software please disable it. There is nothing in this site to worry about as all files have been tested for virus and other infestations on the server.
Thank You for visiting.
Sincerely,
Wayne Strnad