Wayne Strnad Helped Many Who Were Used and Abused in the community and business concerns alike.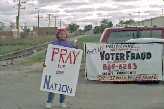 This download shows only two people that work for the City of Chicago who have come forth to bring out the facts of how the city really treats its employees.
Labor is divided into two parts - the private sector and the public sector. When a person works for any governmental body they are classified as working in the public sector. Otherwise, if a person works for a company of any sort, a business, they are considered working in the private sector.
The laws that you think would apply to all working people in any community, do not apply to the public sector. In fact, in a case brought before the 7th District Federal Court, a lawyer working for the City of Chicago suggested that it is ok to dismiss parts of the constitution when applied to public employees and, Stan Steck said, had presidence in another case in which a Federal judge allowed the dismissal of constitutional rights of a public employee. In other words, whatever protections there are for employees working in a business, do not apply to city employees.
The two individuals shown in this download both work for the City of Chicago. On the left, this man had a tumor the size of a childs football. Although the photograph may not show it completely, when you did see it in person, you saw that it was obviously a tumor.
Mercy Works, the outfit that all city employees must go to for medical examinations and/or treatments, seems to have lost all his records. This man worked at the Northwest Facility which is also referred to as Ferdinand Facility. By law, the person in charge of that facility was supposed to keep a copy of all employee records. Gerald Brown, the person in charge, seems to have lost all the records for this person. Mercy Works didn't have a copy of his medical records either. Imagine that, the medical facility that didn't have medical records!
In Chicago, records disappear quite easily. Even when you have copies of paperwork, the city lawyers will deny that the records are valid because of one reason or another.
The man on the right had an injury to his hand and had an operation on his wrist. He was suspended for 3 months and awaits a letter from Cathy Hennessy.
Kathleen "Cathy" Hennessy is a Deputy Commission for Streets and Sanitation. It is alleged that she has connections with another law firm of the same name. She is one and the same person who presented falsified documents in the same case mentioned above. This can be easily proven because we published the original suspension papers which did not match the evidence presented in court by city attorney's Stan Steck and Mera Worth.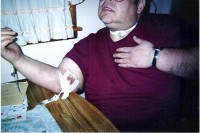 The photo to the right, presented to Wayne Strnad, shows Fernando Mendez, a career service employee who worked for the city more than 20 years before he was forced to work at another facility where he developed many medical complications due to the work environment, as determined by Northwestern Medical Center.