Wayne Strnad Exposes Remap as Illegal for the community and business
Every 10 years the Census is taken and then based upon the census, a political remap is drawn which in theory reflects population changes. Although it was mainly set up for congressional demarcation, it is also used locally to redraw maps of state districts - for state representatives and state senators - as well as counties and even more locally, cities.
In Chicago and many large municipalities, this translates to redistricting wards. Note that such maps are not the same map that you will see where a police department divides its districts into precincts or beats, as they call them. Much of the terminology is similar and used interchangeably, at least for the everyday person. A police department precinct (beat) can, as usually does, overlap several political precincts.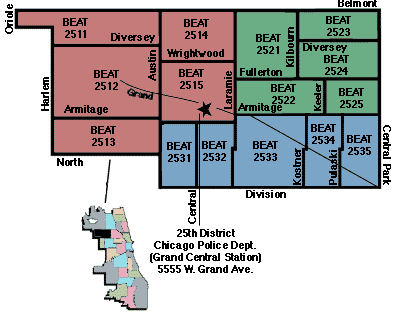 For instance, here is a map from the Chicago Police Department showing a particular district. According to the CPD, the population is approximately 250,000 community residents.
This district services several political divsions called Wards. The district is then subdivided into beats. The map to the right clearly shows the division of beats. Two or more beats compose a sector.
Here is a typical beat map.

This download refers to the work of Isaac "Ike" Carothers and his side-kick Emma Mitts. They apparently teamed up to map out Wayne Strnad from both their wards. This download exposes the truth on how a community gets divided or slided by political demarcations of community members and business concerns.