Remap Revisited by Wayne Strnad for the community and business concerns
It seems apparent that due to all the activity Wayne Strnad focused on involving Isaac "Ike" Carothers, it's no wonder that Carothers would not want to see Wayne Strnad in his ward, in the community, or anywhere within the 29th Ward. So, the north end of the 29th Ward made a shift away from Wayne by about one block south. That meant Wayne was put in the 37th Ward. Emma Mitts did not really want any part of him either so what they decided to do was take out the one block that Wayne lives on from the 37th Ward and then go one block north and east to include it in the 37th Ward. They thought that would solve the problem of Wayne going after either one of them.
What they actually did was put Wayne's block in the 30th Ward of Chicago. This now meant that Wayne was strategically located to go after corruption in three wards and all within one block of his house. Thanks guys and gals. "You did a great service to the community and business concerns throughout all the three wards," says Strnad.
Here is a make-shift drawing of the 37th Ward that shows the shifting of Ward boundaries one block north of Fullerton Avenue.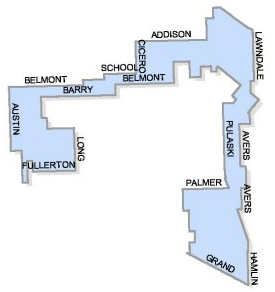 To the left you see the map of the 30th Ward, that fits into the section labeled as Fullerton in the map in yellow. The map in blue is the 30th Ward and the yellow map is the 37th Ward.
The process of course is illegal and its called gerrymandering. Wayne didn't want to waste thousands of dollars in court costs, especially with a court as corrupt as the Cook County Court system. They're all in Daley's pocket and I don't mean the mayor only - his brother is also allegedly involved. Historically, the Chief of the Cook County Judicial System is a guy by the name of Evans. He originally was running against some other candidate for State Representative. The other guy is the guy that the machine wanted. So, they allegedly bought Evans and made him the Chief. They'll never admit to any of this because it was a long time ago and political memories seem to fade quicker than water goes down the sewer, the more time goes by.