Wayne Strnad exposes to the community and business concerns that Laborers Hand was Crushed
The path of many city employees is one of simply doing whatever they are told, without question. Such protocal may work if the person is simply moving a garbage cart to the back end of a garbage truck and putting a "flipper" into the appropriate correspond hole on the cart and then pressing a button. Really, there is not much training involved although there should be some training because if the "throat" comes down and they are not aware of it because of all the other noise the truck emits, then it could be a serious problem. Laborers need some training.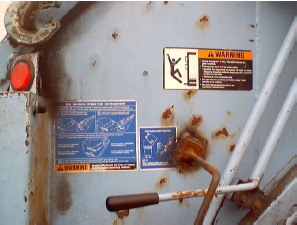 Here is another fact: Many of the garbage trucks only have one cutoff switch for the laborers that put the garbage into the truck. That means the person working by the cutoff switch must be aware of everything and at all times just in case of an emergency. There should be a cut-off switch on both sides of the truck.
Also, since the new contract (a 10 year screwing of labor) many wards of Chicago only have one laborer to do the work of two people. If s/he faces an emergency then their only chance for getting help is the driver. The driver could be doing paperwork inside of the cab or just gazing out the window and not aware of any problem at the back of the truck. There are no mirrors in back so that the driver could look out the side-view mirror to see if there is a problem.
Mr. Sylvester Campbell was one of those people who is a laborer who did not receive any training but told to work with dumpsters. Dumpsters are not your typical garbage cart because they are rather big, hold a lot of garbage, and can sway easily and potentially cause a great deal of damage to any nearby person within the community or business concern, who usually has a dumpster to place garbage into.
Mr. Campbell had his hand crushed by a dumpster.
Wayne Strnad demanded that the city do something about training, seeing that the taxpayers pay over $6 million for a training program that the Department of Streets and Sanitation refused to let him see a copy of the details. Cathy Hennessy denied his FOIA request.
Shortly afterward, the Department of Streets and Sanitation decided to run a training program so that all the laborers were training in dumpster handling.