Kelly Gets Snagged by Wayne Strnad working for the community and business concerns alike.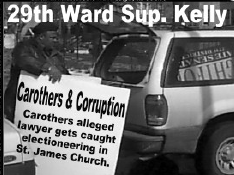 After Johnson went up the ranks of corruption to the District Ward Superintendent for what is called District 3 or D3 for short, Kelly was appointed by Isaac "Ike" Carothers as the new 29th Ward Superintendent.
One day he was caught distributing signs for a candidate that Carothers was helping. The only problem with distributing the signs was the fact that it is against the policy of the City of Chicago for any city employee to do any political work on "company time." Wayne Strnad caught him taking out signs that were to be installed in various places within the community and business concerns.
Not too long afterwards, Kelly was replaced as the 29th Ward Superintendent and was moved to the Bureau of Electricity - another department that needs to be investigated.