Laborer's Life Endangered - Wayne Strnad exposed the truth for the community and business people so that everyone knows the truth.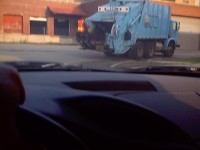 One of Isaac "Ike" Carothers precinct captains, Mr. Andrew Moore, forces laborers to ride on the side step of a garbage truck at unsafe speeds. Fact it, it is not recommended to have anyone on the garbage truck while the truck is in motion, even though the city does encourge workers to ride on the side if the distance is approximately a block or two. Obviously, it is a safety issue.
Such actions do not take into account the possibility of the laborer accidently falling off due to the kick plate being wet or the driver making a turn at to rapid a speed. Also, they could simply get hit by another car or truck passing by. This is a danger to the community and business people who observe this life-threatening event and may need to take extra precautions to insure safety. Why even take the chance, asks Wayne Strnad.
In the photo below, you can see the warning message. Yet, the Union and City of Chicago tend to ignore these important points.