Wayne Strnad and community members expose Dick Devine for doing nothing. It's business as usual, which means he does nothing.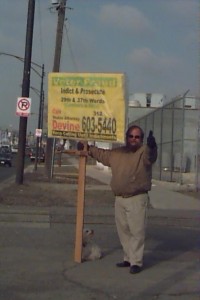 Richard Devine was the Cook County States Attorney. It was his job to investigate, as it is the job of his successor, complaints of voter fraud. Devine received more than 3000 pages of documentation showing exactly how things went down in the 29th Ward.
Wayne Strnad was called in to look into the matter because in the 29th Ward there were only between 200-300 people who voted absentee. When Isaac "Ike" Carothers won his first election against Floyd Thomas, there were nearly 1700 absentee votes.
Strnad designed and implemented a database that tracked all this information. You can now find this information online by visiting this site.
As you can well imagine, Cook County States Attorney Dick Devine did nothing about the information, but did rename the voter fraud unit three time due to all the calls that were coming in from Strnad's infamous picket that lasted 400 days. The only reason it stopped was due to the statute of limitation.
Strnad stands near the Railroad Crossing where he picketted to get the tracks repaired. That picket saved the taxpayers more than $125,000. He received $0 for his work and did it because it simply is good business to help the community.
As you can imagine, such involvement in community activity is very important for everyone because all the people that use that street (approximately 30,000 cars per day) benefit from it. Help us continue to help others by purchasing something.