Recommendations
This Month

To Order Your Copy, Please see below....Micro Niche Finder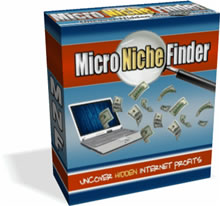 This is a software package that was discovered rather accidentally by Wayne. He would like to share it with you because some of the problems in making money on the internet deal with advertising and picking words that are keywords for advertising on such servers as Google, Yahoo, MSN to name a few.

This product does a great deal of the work for you in picking out a niche.

Here is a link to the page that describes some of the possibilities for you, complete with videos. Also, this is where you can order your copy.