1st Amendment Violated by 37th Ward Clerk, who should be on the back end of a garbage truck, by Wayne Strnad on behalf of the community and business concerns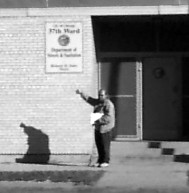 Violation of Constitutional Rights
It was a brisk morning that day when Wayne Strnad passed out some information in front of the 37th Ward Streets and Sanitation office. After a few minutes, someone came out the front door and told Wayne that he cannot pass any information out in front of a Streets and Sanitation office.
His first question was, "Who told you that?"
"It's City Policy. Go Get a Job." he was told.
Wayne Strnad tells Miss "Get a Job" that the sidewalk in front of Streets and Sanitation was public property and as such he can. He then suggested she call Sanchez because he was going to do it right away. Taken aback by Wayne's comment, she raced inside closing the door behind her. Strnad still passed out information, despite her protest. He did call downtown right after she left and told them if they decide to do anything about his passing out of information then they are in violation of his 1st Amendment Constitutional rights, and as such, they will find themself in Federal court. No city employee, whether connected to an alderman or any other political figure, should violate or be in violation of any rights, bestowed upon the community, person or business, as guaranteed by the Constitution.

She was later discovered to be a laborer, Local 1001, who should have been working on the back end of the garbage truck. She was put in the position as an "Acting Clerk" allegedly because of her political work in helping an alderman. What's the difference? About $10,000 in yearly salary. We exposed her to.
How does that old saying go? Don't throw stones when you live in a glass house!